Safe Transfer of Germplasm (STOG)
Contact person for Safe transfer of germplasm: Monica Mezzalama, CIMMYT, Mexico
Contributors to this section: CIMMYT, Mexico (Etienne Duveiller, Monica Mezzalama, Eloise Phipps, Thomas Payne, Jesper Norgaard), Independent consultant (Jesse Dubin); CIP, Nairobi, Kenya (Ian Barker); CIP, Lima, Peru (Cecilia Ynouye, Wilmer Perez); IRRI, Los Banos, Philippines (Patria Gonzales, Evangeline Gonzales, Carlos Huelma, Myra Almodiel, Joel Dumlao); ICARDA, Aleppo, Syria (Siham Asaad, Abdulrahman Moukahal); CIAT, Cali, Colombia (Maritza Cuervo, Daniel Debouck, María del Socorro Balcazar, César Augusto Medina, José Luís Ramírez, Josefina Martinez); IITA, Nigeria (Maria Ayodele, Lava Kumar); ILRI, Addis Ababa (Jean Hanson, Janice Proud, Juvy Cantrell); Bioversity, International-Musa Germplasm Transit Centre, Leuven, Belgium (Ines Van den houwe); ICRISAT, Patancheru, India (RP Thakur, AG Girish, VP Rao).
Compilation of information on Safe Transfer of Germplasm (STOG)
The safe transfer of germplasm is paramount to protect germplasm banks from storage of germplasm contaminated by pests and diseases, and to avoid the dissemination of pests and diseases to countries requesting genetic resources.
The coordination of the safe transfer of germplasm falls under the overall responsibility of CIMMYT. The focal point and coordinator for this activity is Dr Monica Mezzalama, Head of the Seed Health Laboratory, CIMMYT. Information on seed propagated crops was compiled under the leadership of CIMMYT, whereas CIP was in charge of compiling information on clonally propagated crops under the leadership of Dr Ian Barker.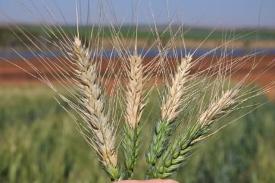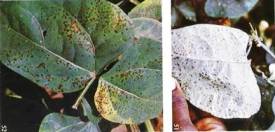 The approach taken to produce the information presented herein followed recommendations from participants in workshops held at CIMMYT, Mexico for seed crops (August 2007) and at CIP, Peru, for clonal crops (November 2007). Three major areas were considered useful to group the information: 1) Germplasm import and export requirements; 2) Technical guidelines for the detection and treatment of pests and pathogens and the safe transfer of germplasm; and 3) Best practices in place in the CGIAR Centres.
The framework for this task focuses on relevant quarantine and undesirable pathogens and pests that need to be checked at the level of the Centres' Germplasm Health Laboratories. This is to protect germplasm banks and secure the safe transfer of germplasm to countries requesting seed and plant material from CGIAR Centres.
Organization of information
This section provides information on 15 seed crops and five clonally propagated crops under the mandate of CGIAR germplasm banks. It summarizes information on current practices and guidelines for the safe transfer of germplasm gathered from the seed and crop health laboratories from CGIAR Centres in charge of the different crops.
For each crop, contributors are solely responsible for the content of the information shared under the System-wide Genetic Resources Programme(SGRP) platform.
Seed crops
For each crop on the left-hand menu, information is given on:
Import and export requirements
Country requirements for importing seed/plant material from CGIAR Centres are provided. It is understood that each country may have different requirements. It is also recognized that requirements to import genetic material to a given country are evolving. Therefore CIMMYT is developing a standard tool that will allow Centres to maintain an updated database of import/export requirements for all crops that will link information on specific pathogens and pests (this database is under development).
Guidelines for the detection and treatment of relevant pests and diseases
These guidelines provide recent information on pathogens (viruses, bacteria, fungi) and pests (insects, nematodes, weeds). The guidelines include noxious pathogens and pests under quarantine, and undesirable pathogens and pests that may have a broad distribution but that should be avoided to ensure plant and seed vigour, whilst reducing the risk of spread and losses. Therefore the pathogen and species lists are not exhaustive and are limited to relevant pathogen and pests following the framework and rules presented above. The guidelines include information on: importance as a seedborn disease, significance as an economic disease, symptoms, biology, transmission, indexing tools, treatments with key references and links to photographs or other information sites.
Best practices
These pages provide the general procedures in place in the CGIAR Centres to secure the safe transfer of germplasm, including flow charts of germplasm entering and leaving a country and more detailed information on indexing tests in place.
Clonal crops
The following information on clonal crops is provided in the clonal crops subsection:
Diagnostic methods for determining the health of germplasm of clonal crops.
Disease lists for banana, cassava, potato, sweet potato and yam.
Protocol validation for the safe handling of germplasm.
Guidelines for the detection and treatment of relevant pests and diseases are provided for potato and sweet potato.

General information
Seed and plant health laboratories in CGIAR Centres work in close collaboration with phytosanitary authorities in the host country. A directory of key contact addresses in the CGIAR Centres and host countries is provided here.
Quarantine services in each country are the ultimate authority defining pathogens and pests that are part of their regulation to import and export plant material. These phytosanitary services operate under the International Plant Protection Convention (IPPC).
Useful links on phytosanitary aspects are summarized here.
General information on how pathogens and pest names should be used, following standard rules, is provided here.
We recognize that there is need for improvement and further contributions are very welcome. Queries, corrections and additional information or updates can be addressed to the contact persons for STOG. These will help to improve the Knowledge Base over the years and to make the safe transfer of germplasm easier.
References and further reading
CABI. 2007. Crop Protection Compendium, 2007. CD-ROM Edition. Available from: http://www.cabi.org/cpc/. Date accessed: 21 June 2013.